Admitted to Pan Africa University – 3 more to go!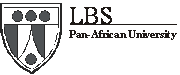 Hm… just came back from lunch and decided to check my mail. My eyes just caught a mail from someone whose identity is obvious – definitely someone from Lagos Business School's admission office. The content? Your guess is as good as mine. I have just be informed that I have have been admitted into the MBA programme of the LBS – Pan African University. I was also told that details and admission letter would arrive soon through courier.
Should I shout for joy? I really dont know yet as I have to raise N250,000 between now and 07 December 2005 being payment for the first term of the programme. So, anybody there knows how I can raise this? My total investment in Shares & Stocks is just a far cry from that amount. Therefore, the option of disposing off my shares is not it at all. I really need to be fast on this if I want to keep my slot on this MBA class as my admission would only be confirmed after payment of this fee. The question now is how to raise N250,000? Moreover, I am not sure I want to go to LBS as I have my eyes now on my Stanford MBA application.
I did submit four MBA applications – Pan African University (Lagos Business University, Nigeria), Stanford, Darden and Kenan-Flagler – and I started waiting for the result. So, the first GOOD NEWS came today. I believe this is the beginning of the journey. Darden status would be know on 09 December while I would get to know my Stanford MBA application by January. Kenan-Flagler would get back to me also in January. It is now MBA admission galore.