African first Female President emerges…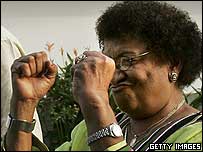 Africa is set to have her first elected woman leader as Ellen Johnson-Sirleaf claims victory in the war-torn Liberia state. With 91% of ballots counted thus far, she had won 59% of the vote to leave her main rival, George Weah, trailing on 41%.
Electoral authorities have not yet officially declared a winner in the country's first presidential election after 14 years of civil war and the United Nations peacekeeping force has put extra troops on the streets in case of unrest. The National Elections Commission has two weeks to issue the final results after they come in from remote areas of the war-ravaged country.
A senior diplomat following the election closely said he thought there had been some irregularities but that these would not influence the final outcome. Visit CNN for details