Motorola adds Google to mobiles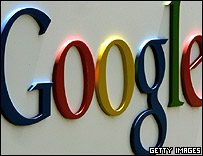 Motorola has announced plans to enable users of its mobile phones to access Google's internet search engine at the touch of a single handset button. The US mobile phone maker said it would introduce Google's software technology to many of its new handsets. The companies said they wanted to encourage more mobile users to access the internet using their phones.
Separately, Google also announced an internet video service deal with US chip giant Intel. The company said it planned to allow users of Intel's new Viiv digital entertainment platform to use its search technology to locate and watch videos on the internet.
The agreement between Google and Intel was unveiled on Thursday at the Consumer Electronics Show in Las Vegas, where Google co-founder Larry Page is due to make a keynote address later on Friday. Mobile operators have struggled to boost revenue from services which allow phone users to surf the web.
But Google chief executive Eric Schmidt said he believed most people would in the future access the internet using their mobile phones.
"People are going to spend all their time on it eventually," he said.
Motorola said it planned to launch special Google-enabled phones, which would give users access to the world's biggest internet search engine at the touch of a single button, later this year. Eventually the company plans to embed Google technology in all of its future phones.