Personally made Christmas gifts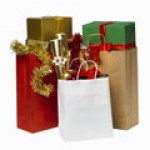 It is that time of year again. Yuletide! Christmas in the air. Nostalgia, goose pimples and casting off all financial discipline. It was originally meant to commemorate the birth of Jesus Christ – Joy to the world, and good will to all men… I found this piece below useful and I decided to share it with all.
This is the biggest sales season of the year. Shops prepare all year for this moment. To boost sales, some shops in victoria island, ikoyi and ikeja offer some tantalizing price reductions, 30% off, buy one get one free etc. Woolworths is doing a clearance sales of 50% to 70% off.

They work on your psyche until you give up the fight, switch your brains off and give in fully to your emotions. There is a nice sounding word for this victory: consumer confidence. In plain english – Buy now, regret later.

You must buy new clothes for every member of the household, especially the kids, take them to see 'father Xmas', send gifts/hampers/cards to relatives, friends and foes. You must decorate your living room with lighting effects even if only for the 30 minutes NEPA will afford you electricity, renew or upgrade your cable subscription, spend on more cooking, kill a chicken, turkey or goat depending on your purse etc.

You must let the village folks know that your foray into the city paid off after all. It is the law. If you break the law, your reputation is gone. Shame the devil by splashing out for those in the village.

WHAT OPTIONS DO YOU HAVE?
How do you withstand this massive onslaught against your fragile purse strings…… this war against the soul of your finances?

Simple, befriend your budget. Run back home and make friends with your budget. Period. The standard moneywise advice is, "Make a budget and stick to it".

A key advantage with budgets is that it lets you know where you stand. So how do you give joy to the world without digging your own financial grave?

AVOIDING THE TRAP AND STILL GET IN THE GROOVE
If your pocket is looking a little bit bare this holiday season, I would advice you plan to make your gifts all by your self and tag it "personally made for you," You end up giving a great gift – spending less and discovering skills you never thought you had.

According to Bunmi Tukuru, she has been teaching her sisters to limit their expenses during Christmas by improvising on greeting cards and Christmas gifts by recycling old calendars, especially those with pictures of scenic spots.

For personalized Christmas cards, she said one can use his or her photo. It could be pasted on a bondpaper and with some designs, the finished work could serve as a personalized postcard.

As for Christmas gifts, used but still presentable clothings or things could pass as presents.

OTHER IDEAS TO HELP CUT THAT BILL
Homemade cakes, cookies and pies for those that know how to bake would save you a lot of money. The ingredients to make a medium sized cake cost about N600.00 and if you want to make it rich with mixed fruits or special coco-nut or apple cake, an extra N200.00 would just be okay. Buying it off the shelf goes for between N2, 500.00 and N4, 000.00.

NB: Do not expose yourself to ridicule if you are not good in the kitchen. This one is not for trial cooks.

Personalised hampers might just be the place for you to show your talents. The difference between 'Gbekere' and plantain chips is in the packaging…. So also are the hampers displayed in the shops. Interested? Good! You can get the baskets in the market, buy the various items you can afford, place everything in the basket (well arranged), decorate the basket with red and green satin ribbons and your hamper is ready.

For the discerning lady, this is your opportunity to keep it real, home made and send the right message. Simply get a small cute basket and fill it up with cute gifts like designed handkerchief, male roll-on, shaving cream, boxers, cufflinks, tie, and his favorite musicals all recorded in one CD would not be a bad idea for your loved one. The key is to make everything in the basket blue and personalized.

The result – a completely won-over man swept off his feet by the industry of his woman. He would be thankful that you took notice of his hurting wardrobe. This you achieved without emptying your pocket. For the gentlemen, same goes, make everything pink, feminine and personalized. She will love you for life.

For me, I am set on doing something very creative and good with my hands. I intend to string very beautiful beads for my aunties and sisters. For those interested in this, one advise though – try and get the colour combination right.

PASSING SHOT
The whole idea is to encourage you to participate in the season blues, spread some love, and enjoy yourself without being in the red and green with envy!

While, at it remember that it is wise to know that your November salary is for December expenses and your December salary is for January expenses. It is so easy to forget this in the midst of the battle for your emotional attachment towards the season, especially as some employers pay December salary mid month. If you mix it up, you will join the bandwagon of people that believe that January is the longest month in the year.

Merry christmas and my best wishes to you for a prosperous 2006.