TuFACE of AFRICA…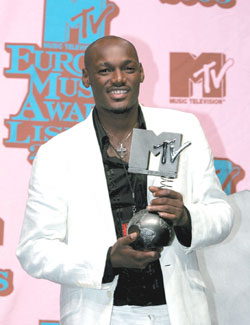 Nigeria's pop music exponent, Tu Face Idibia emerged on Thursday night in Lisbon Portugal as the Best African Artist in a contest that pitched him against four contenders also from the continent.
The event was the 2005 MTV Europe Music Award held at the prestigeous Atlantic Pavilion located at the heart of the ancient city of Lisbon. Before the presentation on Thursday night, bookmakers had actually predicted his victory considering his exploits on the music channel since its launch early this year in Lagos.
In fact, Alex Auks, Vice President and General Manager, MTV base, was full of confidence that the Nigerian pop music sensation would break record as the first African artiste to win the award. The category which made its debut on the global live music event at the Lisbon outing was created according to Okosi, to underscore the contribution that African artistes have made to the realization of the objective of the music channel. "This is a landmark year for Africa. First, MTV launched its first ever African channel, MTV base, and now it has created this milestone award to recognise the artistry, creativity and passion of African musicians".
"We have so much respect for 2-FACE and for all he has achieved so far in Africa – we are delighted that this Award nomination will bring his name and music to a broader audience – the global stage of the MTV Europe Music Awards – with more than one billion viewers!" Okosi said before the presentation. Hm… I am indeed proud to be a Naija once again. Thank God TuFACE decided to live his dream.
As a young band singer/songwriter, 2-FACE had since caught the picture of a superstar as a member of a pop music group, Plantashun Boyz (wow, I remember the exploit of this group in the 90s). But his profile as R&B exponent of note began to assume a distinguishing outlook when he broke away from the group and cemented his solo popularity with his catchy, lyrically inspired, heartfelt songs, sung in a mixture of English, local dialect and Pidgin English
After major critical and financial success for his debut album, Face 2 Face, which has sold in excess of two million copies, a mantelpiece full of awards, and collaborations with Wyclef Jean and Beenie Man, Idibia's eagerly-awaited second album is due in late 2005. So, what out. SOMETHING IS JUST ABOUT TO HAPPEN…